Strategic Integrated Marketing Communications
Strategic Integrated Marketing Communications
Third Edition
ISBN: 978-1-138-05832-3
Available from Amazon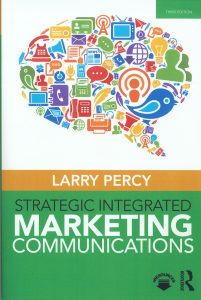 Larry Percy, Visiting Professor, Copenhagen Business School and International Consultant in Marketing Communications and Brand Strategy.
Considered by many the best available book on the subject, it not only makes an excellent textbook for courses in IMC, but also offers practical insights for managers to successfully implement IMC.
Integrated Marketing Communications is not just about utilizing different communication options in your marketing campaign; it is about planning in a systematic way to determine the most effective and consistent message for your target audience. As such, it depends upon identifying the best positioning, generating positive brand attitude, a consistent reinforcement of the brand's message through IMC channels, and ensuring that all marketing communication supports the company's overall identity, image, and reputation. This textbook is a roadmap to achieving this, thoroughly updated to reflect the dynamic changes in the area since the first edition was published.
An essential book for today's marketer now that integrated marketing communications form a critical success factor in building strong brands and strong companies
This new edition is still the only textbook on the market to deal with all aspects of IMC from a strategic perspective
Corporate image, identity and reputation have never been more important and this book unlocks the key factors in achieving and enhancing this
New to this edition:
New sections on social media and now to integrate them into your marketing function
New chapter on message development and an enhanced chapter on the IMC plan
Robust pedagogy to help reinforce learning and memory
Enhanced teaching materials online to help lecturers prepare their courses
Brand new real-life case study vignettes
Purchase on Amazon