Strategic Brand Management
Strategic Brand Management
Fourth EditionISBN: 978-0-19-879780-7Available from Amazon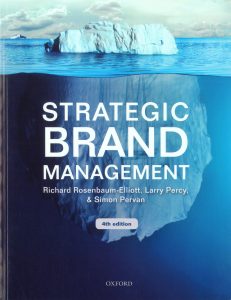 Richard Rosenbaum-Elliott, Professor of Marketing and Consumer Research, University of Bath School of Management and Fellow of St. Anne's College, Oxford.
Larry Percy, Visiting Professor, University of Oxford, Copenhagen Business School and Luiss Business School, Rome, and International Consultant in Marketing Communications and Brand Strategy.
Dr. Simon Pervan, Senior Lecturer, Southern Cross University, Australia and Co-Editor in Chief of the Journal of Consumer Behaviour.
Strategic Brand Management, Third Edition uniquely analyses the social and cultural aspects of brand strategy and its influence on consumer perceptions around the world.
Written by experts in the field, it is designed to ensure students are confident in analysing traditional ideas of brand equity and positioning and are able to understand the emotional and cultural connections brands create and employ. The book's innovative framework separates a brand's concept into its functional and emotional parts to give students a complete understanding of how brands operate and compete for consumer loyalty.
In addition, brand management theory is applied to a wealth of engaging real-life case studies and full colour images clearly illustrate brand strategies in action. Diverse and dynamic examples include Red Bull, Fiat, and Virgin, as well as innovative Australian stationery brands, Scandinavian coffee companies, and international retail giants.
As a result, Strategic Brand Management is the complete and essential textbook for students aiming to develop their academic and professional skills and learn more about this challenging and profitable industry.
This textbook is accompanied by an integrated Online Resource Centre:
For students

Apply your research skills and widen your understanding of real-world brand management with our range of web exercises.
Connect to relevant and reliable sources of online information using our chapter-by-chapter web links.

For registered lecturers

Adapt the accompanying PowerPoint slides as a basis for lecture presentations, or for use as hand-outs in class.
Access links to a range of relevant articles, YouTube videos, and websites to support your teaching.
Purchase on Amazon